From the Acting Deputy Principal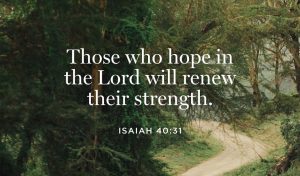 This week, we introduced our value of "Hope".  Hope is having faith in what we can not see and knowing that God's plans are always good.  Even in times of distress and darkness, hope is what we hang onto deeply engrained in our hearts to believe that there is goodness to come.  Sometimes we hope for good weather or to go on a family holiday to the Gold Coast or hope that the new shoes you bought online fit!  Clearly, what is hoped for may or may not come to pass. The hope of believers, however, is more than a desire or a wish. It's an unshakable confidence in God — even when circumstances give us every reason to doubt.  Children are the best at looking at the possibilities and greatness of the future.  As we become adults and the weight of this becomes more serious and sometimes heavy to carry, we can look to the simple view our children have of the world for a refreshing break.  My prayer is that we continue to view the world in a childlike way and ask our Saviour to help us carry the burdens.
A couple of reminders:
Week 8 is our Father's Day Stall and Fathers and Daughters Event.  Week 9 will see our Year 5 students embark on their team building camp from Tuesday to Friday.  Walk My Way is a family friendly event that sees our Lutheran Ministries Community come together to raise money for refugee children.  Our Free Dress Day on the last day of term will also go towards this ministry.  Every $26 raised sends a child to school for a year! Finally, we will be spreading awareness for our Cyber Safety Week including our Rainbow Day!  Please keep an eye out in your email and on Social Media, as all of the event information will be sent home via these platforms.
Mrs Marcia Jealous
Acting Deputy Principal