From the Head of Teaching and Learning
On the first weekend of the school holidays, I had the privilege of attending the Queensland Association of Mathematics Teacher Conference, in Brisbane. There was so much rich learning from colleagues and it reinforced what I had fought for as a panel member for the Queensland review of the Australian Curriculum over the past few years. Where Mathematics is moving is very exciting and I can't wait to see what is to come for our students as they learn to not only master mathematical concepts, but investigate and apply Maths in practical, complex and challenging ways.
Professor Chris Matthews from the ATSIMA (Aboriginal & Torres Strait Islander Mathematics Alliance) spoke with wisdom and passion about connecting Aboriginal and Torres Strait Islander perspectives and culture to Mathematics. Here is a short video of Professor Matthews explaining his amazing work: https://www.youtube.com/watch?v=2H1pHCXcTrE
Dr Simon Singh was a key note speaker and his humourous and insightful presentation showed his deep commitment to making Maths engaging and challenging for all students. Dr Singh has made documentaries for the BBC, including one called Fermat's Last Theorem and is a widely published author of Maths and Science books. He has an organisation called Parallel and I encourage you and your children to have a go at his weekly problems called Parallelograms here: https://parallel.org.uk/.
So how does the rubber hit the road with the delivery of the intent of the new Mathematics curriculum at our school? We have already started this journey at St Paul's. This year, we have introduced daily Number Talks across the school (which both students and teachers are loving!), along with regular Maths investigations. Our teachers have engaged in professional learning in Computational Thinking and have completed 2 Mathematics courses from Standford University. This term, our teachers will receive more professional learning in Maths as they engage in the webinars from the Infinite Ideas Festival and they will be encouraged to think outside of the square as they actively and collaboratively investigate problems from Maths 300. In August, we will be a host school for the region for the Year 5 and 6 Queensland Mathematics Competition. Students will work in groups of 3 to solve Mathematical problems collaboratively. We have invited other schools in the area to join us at St Paul's as we challenge ourselves in our Mathematical thinking and investigate problems.
At St Paul's, we are committed to providing a high-quality education with evidence-based best practice in Literacy and Numeracy. We are excited to see your children grow, learn and challenge themselves in Mathematics and we are looking forward to also challenging and growing ourselves as staff.
Family Book Club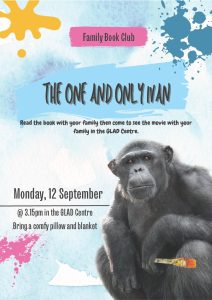 Family Book Club is kicking off again and we have chosen to read the intriguing story of "The One and Only Ivan."
The One and Only Ivan is a bestselling novel about hope and friendship. It was inspired by a real silverback gorilla named Ivan who was held captive for 27 years.
Narrated by Ivan himself, a beautiful story of friendship unfolds between Ivan, an elephant named Stella, and a stray dog named Bob. I encourage you to come to the GLAD Centre and borrow your own family copy of this book. Your family can then read it together as a special, month-long loan.