From the Head of Teaching and Learning
Family Book Club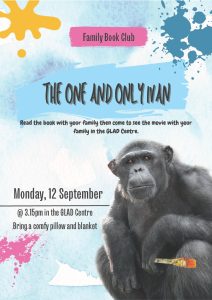 Family Book Club is kicking off again and we have chosen to read the intriguing story of "The One and Only Ivan."
The One and Only Ivan is a bestselling novel about hope and friendship. It was inspired by a real silverback gorilla named Ivan who was held captive for 27 years.
Narrated by Ivan himself, a beautiful story of friendship unfolds between Ivan, an elephant named Stella, and a stray dog named Bob. I encourage you to come to the GLAD Centre and borrow your own family copy of this book and read it together as a special, month-long loan.
QAMT Quiz
Last Monday, 30 Year 5 & 6 students participated in the Queensland Association of Mathematics quiz. Questions ranged from estimating the Eleanor Schonell Bridge, near UQ to working out when Pythagoras was born. Students as well, engaged in group work and had individual quiz questions. Spending an afternoon learning more about maths, taking risks and having fun was so much fun! Well done to all students involved for their growth mindset, persistence and positive attitude.