From The Head Of Teaching & Learning
Family Book Club
Family Book Club will begin again this week. We will be reading Mr Popper's Penguins. You may borrow this book from the GLAD Centre as a special, month-long loan to read with your family. On Thursday the 2 June, we will come together with students and their families in the GLAD Centre from 3.15pm-5.00pm to watch the movie. Please bring a comfy pillow and blanket to snuggle in with while you watch the movie.
NAPLAN
In May, students in Years 3 and 5 will sit their NAPLAN test in Writing, Reading, Conventions of Language and Mathematics. On 21 March we have a practice test scheduled for students to use the testing platform and get a feel for the routines around NAPLAN.
Mrs Valencia will send out more information for parents soon. In the meantime, please feel free to visit the NAP website to look at example test questions on the NAPLAN tests.
Read Write Inc
Our students, teachers and Learning Assistants are in full swing of delivering the initial weeks of our Read Write Inc program. From next term, students in Years 1-2 (and a number of students in Year 3) will begin to bring readers home that are aligned to their developmental level. We would love for you to reinforce the sounds that we are learning in class using this video to guide you: https://schools.ruthmiskin.com/training/view/OTECu66f/nVTHImNL
Reading to your child is really important for their development. Here is a video to give you more information about reading aloud to your child: https://schools.ruthmiskin.com/training/view/P7jeipsk/hdGC32ji
For some tips to help you to navigate reading to your child aloud each day watch this video: https://schools.ruthmiskin.com/training/view/N4fbkU3e/lTskSPl0
Brainstorm Productions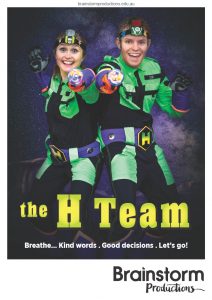 On 28 March, Brainstorm Productions will be presenting their student wellbeing performance 'The H Team'. 'The H Team' is a live educational theatre performance that follows the story of Cal and Mindi, who are accidentally transported from the safety of the 'H Zone' and left without their positive mindsets. Peer pressure and social media make Mindi anxious, competitive and impulsive. Cal is being bullied and excluded at school. He becomes isolated and obsessed with junk food and video games. Cal and Mindi must learn to resist the lure of advertising and excessive screen time, stand up to bullying and make healthy decisions.  
This exciting live theatre experience gives students knowledge and confidence to cope with difficult emotions and critically evaluate negative messages from advertising and the media. They will learn practical strategies that can be used to build positive relationships, stay safe online and take care of their minds and bodies.