Principal News
What an Adventure!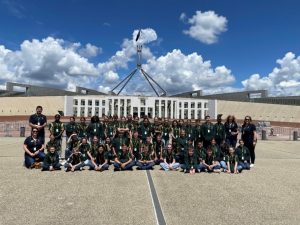 Last week I had the pleasure of travelling to Canberra with our Year 6 cohort for the first ever St Paul's Canberra Camp… and what an amazing first trip we had! From the green and red seats of the House of Representatives and Senate to the Governor-General's house, to some fun down time at iPlay and Questacon, we came, we saw, and we most definitely conquered.
Our Year 6 students represented our school with pride, taking on this new adventure with confidence and honour for their school. They blew me away with their knowledge of our parliamentary processes, astounded me with how much food they could eat and surprised me with their incredible taste in music.
It was a privilege to travel with them on the bus, join them at mealtimes and embrace all the new trends they had to teach and share with me. We made many memories and special connections that will be cherished for a lifetime. I want to congratulate all Year 6 families on raising such amazing young people; it was an honour to experience this special time with them.
Our National Capital, Canberra, has been developed with a wide range of educational programs that focus on Australia's history, culture, heritage and democracy. The quality of these programs is of the best quality, displaying the best knowledge and relevant guides.
The Australian Government identifies the importance of all young Australians being able to visit the National Capital as part of their Civics and Citizenship education. To assist families in meeting the cost of the excursion the Australian Government has contributed funding of $90 per student under the Parliament and Civics Education Rebate program towards these costs. The rebate is paid directly to the school upon completion of the excursion and has already been passed through to families when through a reduction in the camp charge at the time of calculation. As a school, we are thankful to current and past Governments for continuing to emphasise the importance of this camp experience and for providing this rebate to our families to assist student attendance.
We now turn our attention to organising our second Canberra trip, to be held in Week 9, Term 1, 2023.
---
Awards Assembly
Awards Assembly
Our 2022 Awards Assembly will be held on Monday 28th November in the Chapel. Families of students receiving an award will be notified on Friday 18th November if their child is receiving an award so that they can plan to be present if they wish.
AWARD TIMES:
8:45am                Years 3 – 6
10:30am              Prep – Year 2
---
---