Ride Bribie Island 2022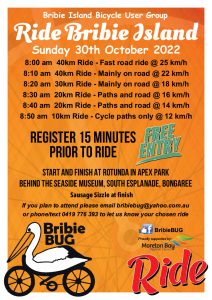 Bribie BUG will be hosting Ride Bribie Island 2022 on Sunday 30 October.
Subject to any coronavirus restrictions prevailing at the time which may again require us to limit the event to club members only, we are opening the event to ALL riders as usual. Watch this space for further updates!
Entry is FREE and cyclists of all ages are welcome.
The event will start and finish at the rotunda in Apex Park (behind Seaside Museum), South Esplanade, Bongaree. It will be a COVID-safe event.
Choose from SIX rides at different start times and different average speeds:
Fast 40km (8:00am – on road @ 25km/h) 40km (8:10am - mainly on road @ 22km/h) 30km (8:20am - mainly on road @ 18km/h)
Fast 20km (8:30am - cycle paths and road @ 16km/h) Slow 20km (8:40am - cycle paths and road @ 14km/h) 10km (8:50am - cycle paths only @ 12km/h).
To assist us with organisation and catering, if you plan to attend the event, please email bribiebug@yahoo.com.au to tell us how many people will be coming and which rides you wish to do.
Please note that all riders will still need to register on the day at least 15 minutes prior to your ride.
Coffee will be available at a nearby bakery and fruit will be provided during the event.
Sausage sizzle at finish.
We will notify those who have contacted us of any cancellation due to wet weather, COVID or anything else. If there has been heavy rain in SE Queensland, but you have not heard from us and are unsure if the event is still going ahead, please check our BribieBUG Facebook page or website https://sites.google.com/site/bribiebug/home or phone/text 0419 776 393 for the latest update.
Enquiries: Phone Isabel on 07 5496 8661 or email bribiebug@yahoo.com.au. Event supported by Moreton Bay Regional Council.