Sports
Gala Day Sport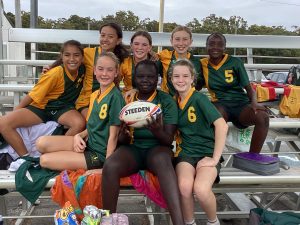 Approximately 60 of wonderful Year 4, 5 and 6 students set off last Friday to brave the wilds of the District Touch, AFL (girls) and Cricket (boys) fields.
As we are accustomed too, exemplary behaviour from our amazing students, fine support and direction from our wonderful teaching staff and inspired efforts from the novice to the seasoned campaigner, meant a wonderful, fulfilling and successful day all around.
Our touch teams (1 Yr6 team and 1 Yr4/5 team) played a combined 10 games, winning 5, drawing 3 and loosing 2 to leave the Seniors outright second on the ladder and the Juniors equal 3rd.
The AFL girls performed admirably, but were somewhat under strength, a player or 2 down for each game. They fought hard and developed with each outing, however found the oppositions superior, size, numbers and experience very challenging.
The cricketers (2 Senior and 2 Junior teams) all performed wonderfully, coordinating fielding, batting and bowling duties with great  teamwork as competition conditions required each team to vary players and roles within each game. Many extravagant shots were played, dispatching wayward deliveries to all corners of the cricketing sphere, routine acts of fielding quickly became majestic, then legendary, then outrageous acts of superhuman coordination and dexterity, while not 1, but several dozen "balls of the century" were delivered from our budding Tiger's, Clarie's, Richie's and Warnie's.
A magnificent day in somewhat bleak conditions ensured that too much sport is never enough and that respectively, Touch, AFL and Cricket were undoubtedly the winners on the day.
The final instalment of this epic sport-a-thon takes place this Friday 19 August, at the same venues.
District Cricket
Two of our outstanding cricketers, Lucas and Shahdin from Year 6, wowed selectors at the recently (often postponed and rescheduled) completed District trial. Both boys will participate in the Regional Cricket carnival coming up later in the term. Congratulations and we pray God's provision and protection over you both as you follow your dreams.